At one point today I looked up from my carving and really looked at was around me. Yikes! When did my shop get so messy?
Anyway, I thought I might show a picture of the tools I'm currently using.
What you are seeing, amongst the piles of wood dust, are several different sizes of dremel bits. (I say dremel, but I don't think any of them are actually Dremel brand. But you know what I mean).
For the bits that don't have their own case, I just drilled some shallow holes in a piece of scrap wood to store them.
When I need to remove a large amount of wood, I use crosscut bits which remove the wood quickly, but leave it pretty messy looking. The majority of my bits, and the ones I do all my detail work with, are cylinder (like the cross cut ones,but they are smooth instead of toothy) and spade (shaped like a little flame) bits.
I keep a few other shapes for wierd corners and such, but that's pretty much what I use. Just 3 types of bits in several different sizes.
You may also notice the hook knife on the table. Benzart got me using that and it is invaluable for making crisp corners and sharp, curved lines. You have to really pay attention to where you are cutting though, because you could do some major damage to yourself without even realizing it was happening!
This is the small table I sit at, plus the bench built into the wall. I usually clean before every project and some how it looks like a bomb went off by the time I'm done.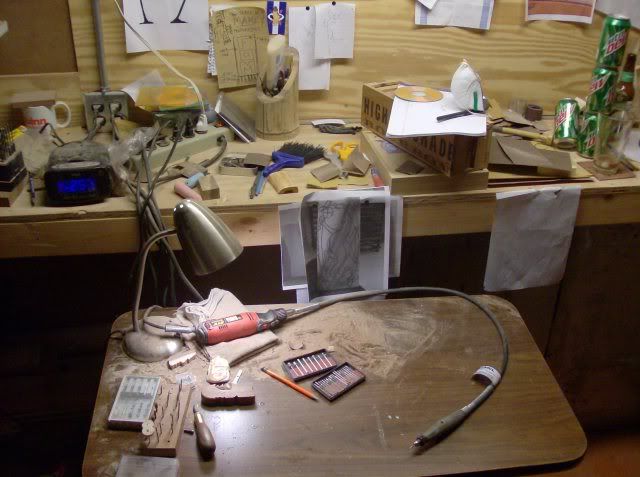 This is just a close up of my little table.
I'll post some more pics of the shop and some of the other stuff I do down there when I get some time.
I could even go through each of the bit types and show how I use them.
More later!
_________________
Please visit my new website
,
Leeward Lounge Ukuleles
My thoughts were so loud I couldn't hear my mouth