Just posted on Craigslist our Witco Hacienda bar, two stools (sadly not original), an old jug with a macrame style hanger and a Hacienda wall hanging. Separately, I have them at $650. If any FOM would like all, $500. Heres the write up:
***************************************************************************************************************
WITCO bar. Chainsaw carved piece of mid-70's Tiki modern furniture from the Witco company of Mt. Vernon, Washington. The bar is carved in a Hacienda/Conquistador style with a geometric design highlighted with scrolls.
This bar measures 68" wide, 43" tall and 20" deep. There are two shelves 51" wide by 11" deep (maximum). There is 12" clearance on the top shelf and 13" on the bottom shelf. The bottom shelf is 10.5" above the floor. The bar can be moved by two people or can be disassembled for transport.
The bar is in very good condition with some minor wear and staining to the shelves and shelf faces from liquor spills. The top and front are in great condition. Please see the attached photos and contact me with any questions.
Included are two bamboo stools (not original) and a blue bottle (neck broken) in a macrame style hanger.
$450.00 firm. Similar bars are currently online for $550 and higher.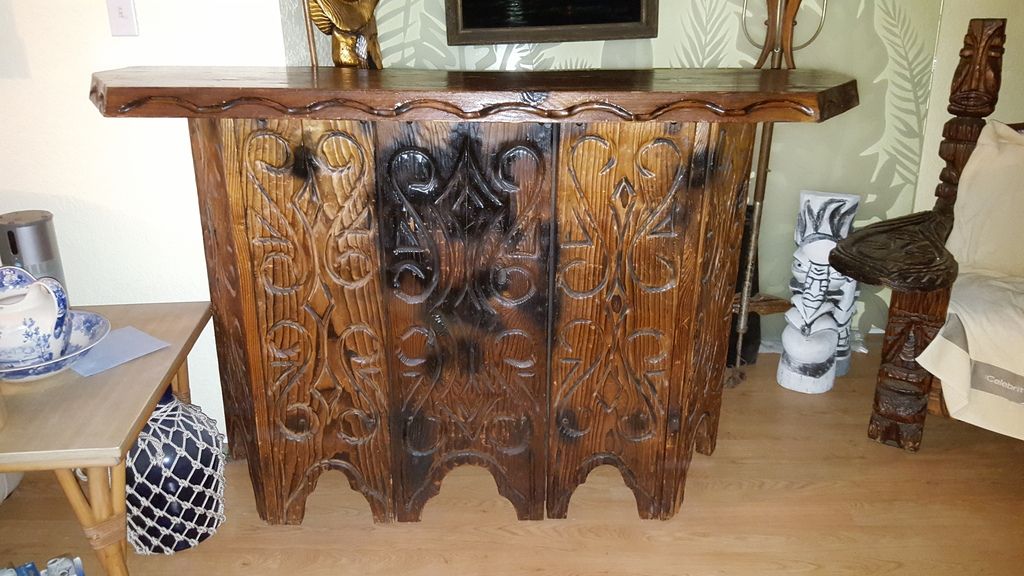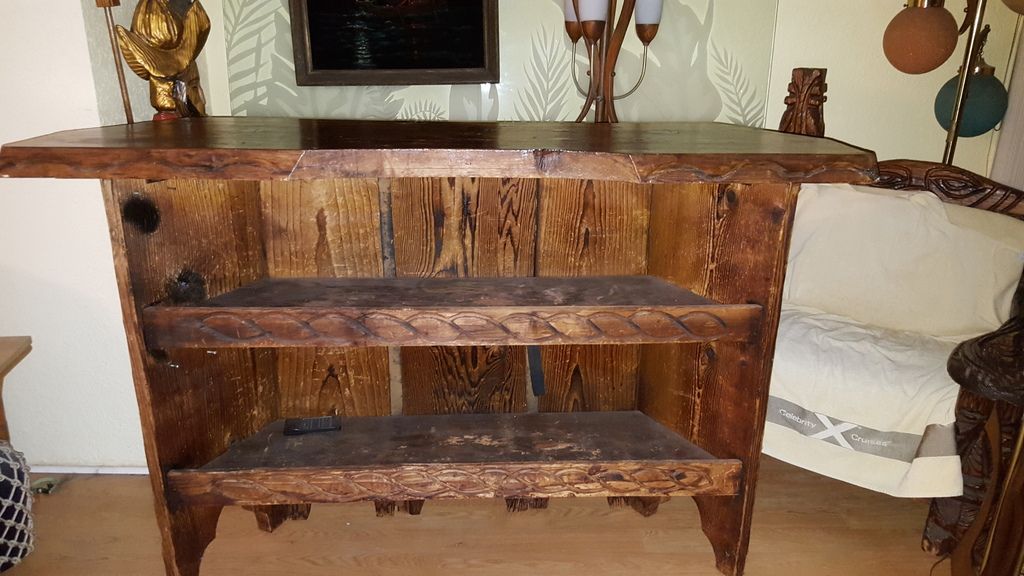 *********************************************************************
WITCO Coat of Arms in the Hacienda/Conquistador style. Chainsaw carved piece of mid-70's Tiki modern furniture from the Witco company of Mt. Vernon, Washington. Depicting a Knight with a battle axe with green and red highlights, the coat of arms is mounted on a black velvet background. The Coat of Arms and the velvet background are suspended from a double ended spear by a pair of chains. The spear has two hangers which would be mounted to hooks securely fastened to a wall. This heraldic Coat of Arms looks perfect hung behind a WITCO bar.
Measurements:
Black background: 40" wide, 23" high
Suspending rod: 49" wide, 4" high
Overall: 49" wide, 28" high (this is the amount of wall space needed to hang this)
The spear ends on the hanger and the coat of arms are chainsaw carved. The Rod is a dowel and the mounting board is particle board. There is damage to two corners of the mounting board (right side, top and bottom) but the velvet covering hides the damage from view.
$200.00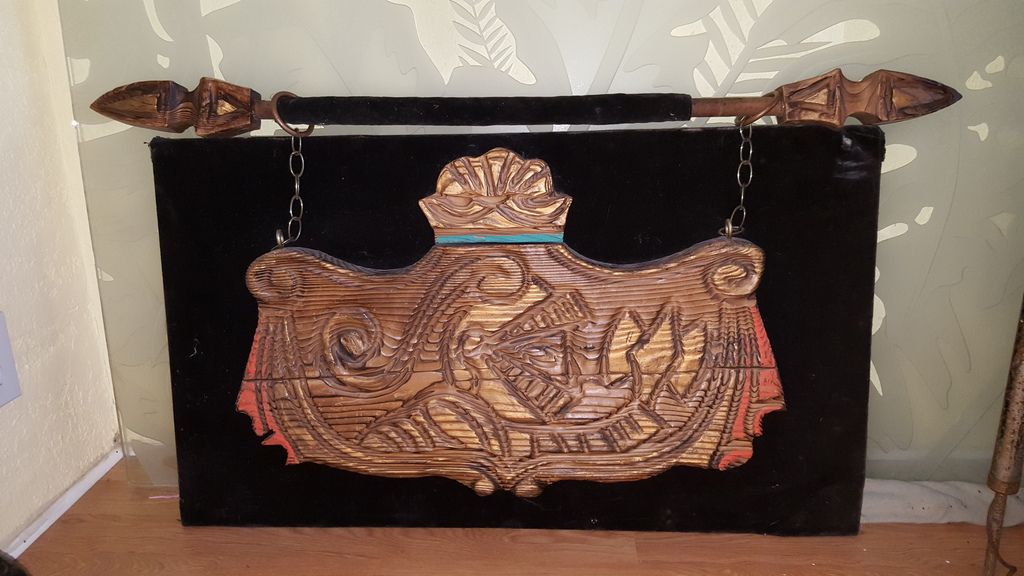 Of course, shipping would be expensive, but I'll help deliver in South Florida as far north as Orlando. The bar can be disassembled and palletized for shipping with a freight company if desired.
Mahalo, OZ