Friends, mix yourself another cocktail, pour another whiskey, or open another beer and then gather 'round the fireplace as I tell you all a sad story. And like that old song from Hee Haw, it is filled with gloom, dispair, and agony on me.
Ok, it's not really that bad. I will explain:
If you look at the pictures above, you will see that I put a small oval sound hole in the corner of the top. Around that oval I added a mahogany oval inlay. What you cant see in those pics is that there was some tear-out around the edges of the inlay where my tools didn't cut exactly smooth. So it left a small gap in the inlay on two different sides. Even though it didn't look that bad, I knew the error was there and it really bothered me. So, in classic Fred fashion, I tried to fix it and in the process I made it 100 times worse than it ever was.
Now, there were also a few other minor errors I made with the top. Nothing that anyone would have ever noticed, but again, I knew they were there.
So in light of all this, I made the decision to remove the top (sound board), and replace it.
I cut off the top with a router bit and then sanded the whole top edge flat again.
I will have to redo all the bracing and tone bars again, but this time I will make it better.
I ordered some Sitka Spruce for the top this time which should produce a nice, warm sound.
It should arrive here tomorrow, along with the tuners and a couple of new tools.
Yes, it sucks that I have to redo a bunch of it, but I really do feel like I made the right decision. Now I know that whoever winds up with this uke will have a quality instrument that I can be proud of.
Here is where I'm at after all that.
In the mean time, while I'm waiting for my package to arrive, I worked on the fretboard.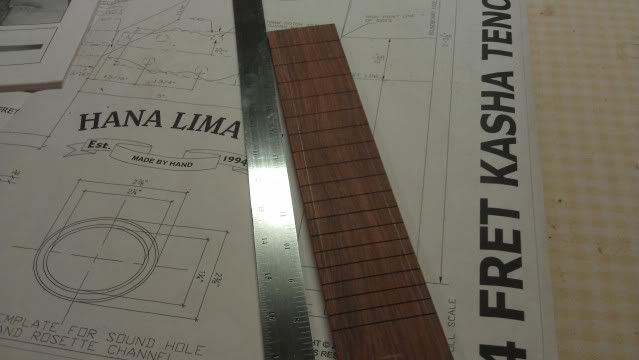 I measured and cut in the tapered edges on the table saw. Then I added the marker dots.
I chose Gold Mother of Pearl this time. They are a beautiful irridesent gold color with flashes of green. I think they will compliment the spruce top nicely.
Please notice that there is a dot on the 10th fret instead of the 9th fret like a guitar. For some reason, traditional ukes that have marker dots do it this way, although I couldn't find and information to explain why.
Then I added the frets. The key here is to get the frets seated completely flat without pressing them too far into the wood while being careful not to dent or create flat spots in the frets.
I cut my frets to length and then used a small piece of hardwood and my drill press to gently press the frets into place.
Then, one at a time, I put masking tape around the frets to protect the wood, then I trimmed, filed, and sanded the edges of each fret so that all of the sharp edges were removed.
During the long Thanksgiving weekend I should be able to get the new soundboard and fretboard on, and maybe even be able to finish up the headstock.
Please don't be afraid to comment or ask any questions!
~Fred