Aloha!
I've been playing the uke for quite a while now, and I've been carving a lot longer than that. And for some reason it never occured to me, until recently, that I could combine the two talents and build my own ukuleles.
Eventually, I got up the nerve to try it. To my surprise it turned out pretty well! Oh sure, I made a ton of mistakes along the way, and I even fixed a couple of them. But, when all is said and done, I have a very playable uke and a good working knowledge of what it takes to make a real ukulele. Here is the thread concering that first uke build:
Ukulele #1
So now, of course, I'm hooked on this and I've been slowly getting the equipment together and doing all the research it takes to equip my workshop for uke building.
The whole process is really much more involved that I thought it would be. And since I want to make a serious attempt at making instruments professionally, I thought I would invite you all to hang out with me during my uke build #2.
That way, you all can see what goes into the process of making a uke from scratch. And should you decide you would like one, you will know exactly what you are getting.
So, here goes...
The first uke I built used a wood kit with pre-sawn lumber. This time, however, I will be using my own wood and cutting it down to size. I have the wood I need for the neck, but I am still waiting for the rest of it to arrive in the mail.
That's ok though, because there are a ton of jigs that I need to build to make sure everything goes smoothly.
First, I made photo copies of my plans and cut out the outlines of the sound board (the top of the uke), and the back board. I then sprayed the backs of the copies with adhesive and fixed them to a piece of 1/8" birch plywood.
I carefully cut out the shapes with my bandsaw and sanded the edges smooth. Then, using a drill press, I drilled tiny holes at the ends of the places where each tone bar will go. (I will explain all of this later, but the tone bars help transfer the vibrations from the bridge to the rest of the sound board)
When the rest of the wood comes in, I will be using these templates to accurately mark and trace the locations of everything that needs to be attached to the insides of the uke.
Here is what they look like: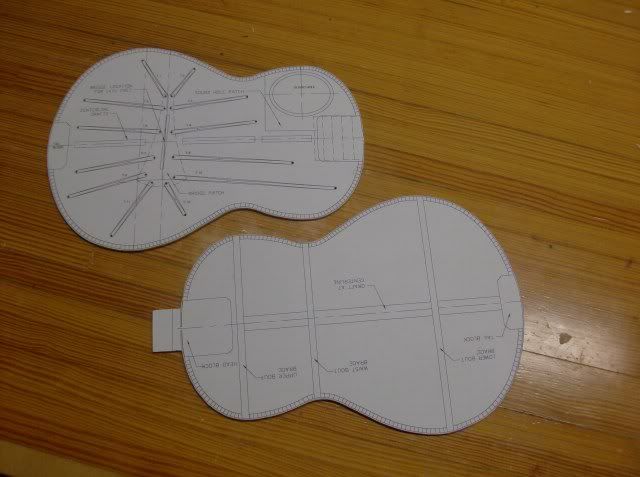 That's all I have for tonight. Tomorrow I will be working on more jigs.
Thanks for looking, and please, ask a lot of questions!
~Fink