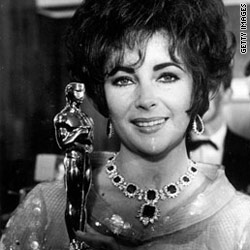 Elizabeth Taylor, the legendary actress famed for her beauty, her jet-set lifestyle, her charitable endeavors and her many marriages, has died, her publicist told CNN Wednesday. She was 79.
Taylor died "peacefully today in Cedars-Sinai Hospital in Los Angeles," said a statement from her publicist. She was hospitalized six weeks ago with congestive heart failure, "a condition with which she had struggled for many years. Though she had recently suffered a number of complications, her condition had stabilized and it was hoped that she would be able to return home. Sadly, this was not to be."
Though a two-time Oscar winner -- for "Butterfield 8" (1960) and "Who's Afraid of Virginia Woolf" (1966) -- Taylor was more celebrated for simply being Elizabeth Taylor: sexy, glamorous, tempestuous, fragile, always trailing courtiers, media and fans. She wasn't above playing to that image -- she had a fragrance called "White Diamonds" -- or mocking it.
"I am a very committed wife," she once said. "And I should be committed too -- for being married so many times."
_________________
"Zimbabwe's Shona people believe mermaids are fearsome enchantresses capable of wreaking vengeance on wrongdoers." -- HARARE, Zimbabwe